Shopping for a Damascus ring can be a daunting task. Afterall, with so many different materials being used to make the Damascus, where does one start? Also, with so many different finishes on the material, how do we decide which is best for you? We hope you find this article helpful as we take you through some of the options:
First, lets discuss the material: Damascus is produced by forging 2 or more alloys together using a process called inertia welding. The materials are then worked and re-worked until a desired pattern in created. This pattern won't reveal itself though until the metal undergoes an etching process. This etching process and the length of time in which it's etched, determines the depth of the etch.
Most Damascus that's produced today is used for knife making. This knife grade material is produced using carbon steel or high carbon steel. This is really great stuff for making knife blades. It holds an edge like no other and looks amazing. The problem is, this type of Damascus can and probably will rust if it's worn on your finger.
This brings us to Stainless Damascus. This version of the material is made by forging two types of stainless steel together (typically 304 and 316). The stainless steel version is the stuff we use in our rings. It's rust proof, shines up like crazy and is perfect for making rings. It's also more expensive due to the raw materials being more costly.
These rings can be offered with a natural etch, a forced patina which darkens the valleys of the ring, and sometimes folks want to get real creative and have a matte finish in the valleys with polished peaks etc. Below are some examples of different finishes.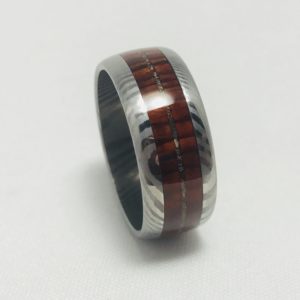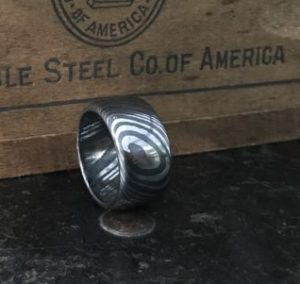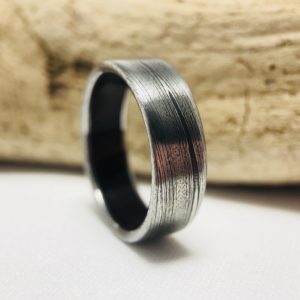 So here's our conclusion: we think it's worth the extra $ to shop for a ring that's made using stainless Damascus. Not only stainless though.. Make sure the materials being used are produced by a responsible forgery. Our materials are produced right here in the USA and we can verify that the stainless grades are what we say they are. Some of the stuff coming in from across the pond is, lets just say, not what they say it is. Your fingers are important! Make sure you're not wearing something that's going to irritate your skin or rust. A wedding band is meant t last a lifetime and beyond.
We hope you find this helpful. Be sure to check out our store before leaving the site.
Please feel free to reach out to us with any questions.
All the best!
Stellwagen Designs